Casino (1995) is an epic crime movie that is good to watch repeatedly. It is directed by Martin Scorsese and it made over 116.1 million dollars, at the time of its release in 1995. It was released in November in 1995 and it has been a classic ever since. The movie is based on the book and the screenplay by Nicolas Pileggi.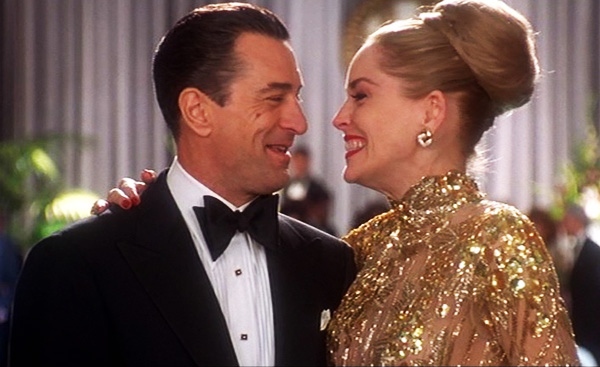 This is real casino movie filled with all sorts of corruption, deception, punishment and of course crime. The movie focuses on three main protagonists mainly Ace who is played by Robert De Niro, the interesting bookmaker Nicky Santoro, which is played by Joe Pesci and the friend Ginger McKenna played by none other than Sharon Stone. Sharon plays a prostitute who has a love for jewellery and money.
One of the most fascinating aspects about this film is that it was based and inspired by a true story. It is based on the story of Frank "Lefty" Rosenthal. Frank took care of very well known and high-end casinos in Las Vegas for the Chicago mob back in the days. The movie is based on true events and is one of the most exciting casino movies to date.
The movie is set in the early 1970's where a mobster gets told to head the Tagiers casino. He is very good at his job but, after some time, he runs into trouble. He is played in extreme danger and has trouble coming from all ends, from everywhere. His ex hustler wife, her con artist ex, some politicians and more get him caught up in whirlwind of crime, corruption and events that can only take place at a large and exuberant casino.
What makes this movie very intriguing and fascinating is that it takes a deeper look into the relationship between the Mafia and its Las Vegas. The first hour of the movie falls by in the means of a documentary format which is fully narrated by Robert Deniro and other people who provide us with a full explanation and insight into the inner workings of the mob.
In terms of acting, this film doesn't leave much to be desired. The cast is phenomenal and the entire movie is made to look and feel real. It almost feels like you are a secret spy gaining insight into the inner workings of the real mob. This movie allows you to sit back and witness the intricate, exciting and mesmerizing underground world at its vest best. It shows you all the elements of what the mob is really like and what goes on behind the scenes at a real casino.
The sound track compliments and enhances the visual aspects of the film. The movie itself is filmed in Las Vegas and this is evident in nearly every scene. The movie is filled with tension, thrills, love, excitement, crime and of course all the casino scenes that your heart desires. If you enjoy casino movies then this is the movie to watch, usually repeatedly. You may not get all the undertones, jokes, plots and twits the first time around, therefore it may be recommended to watch it a second time. Read about another great casino film here.